"To receive discounted Microsoft products, you must first register your organization at Microsoft's nonprofit portal. Then you'll use the portal to send TechSoup Kenya a certificate that validates your organization's eligibility for discounts. The certificate lasts one year.
No certificate is required if you are only requesting donated Microsoft software offered through TechSoup Kenya.
Already registered at the Microsoft nonprofit portal? Skip to step two.
Step One: Register at the Microsoft Nonprofit Portal
1. Go to the Microsoft nonprofit portal and click Get started. (If you're in mobile view, Get started is in the mobile menu.)
2. Follow the instructions to register.
Within 20 business days, you should receive an email with your eligibility information.
Step Two: Send Your Eligibility Certificate to TechSoup Kenya
1. Once your eligibility is confirmed, return to the Microsoft nonprofit portal and click Login (not Sign In) at the top of the page. (If you're in mobile view, Login is in the mobile menu.) You might be asked to provide a TechSoup Kenya Validation Token.
2. After you log in, you'll see a list of nonprofit offers from Microsoft. Click On-premises software licenses to show additional content.
3. Under the Software discounts heading, click More, and then click Continue.
4. Enter the following information and your email address and click Send to partner when you're done.
o Contact name: TechSoup
o Contact email address: KCDF_Discounts@techsoup.org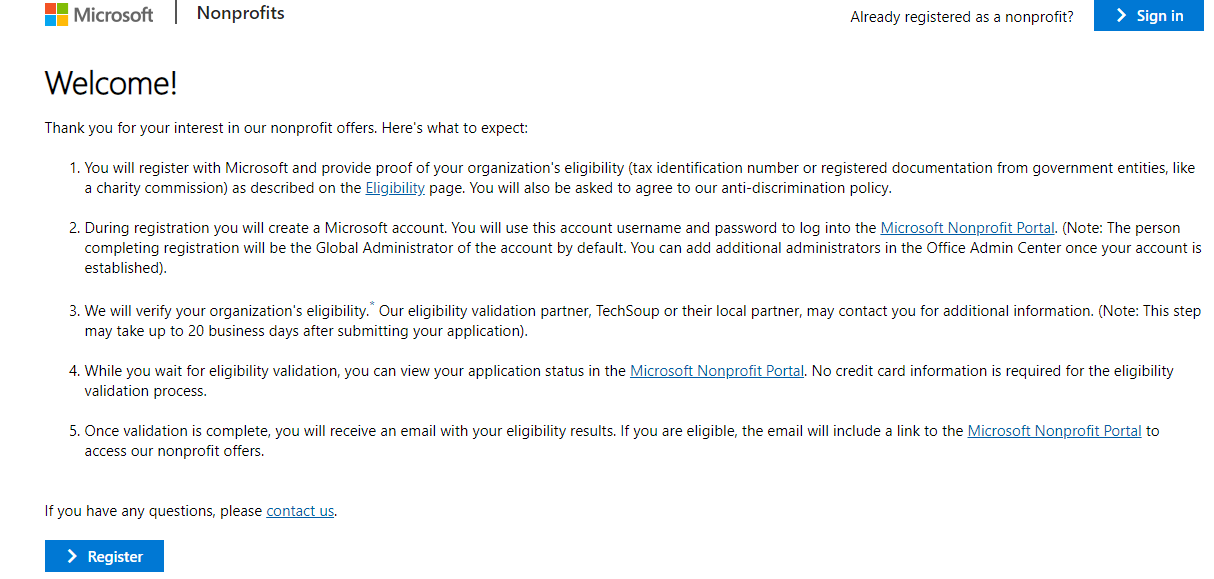 A confirmation page appears.
It could take 5 to 10 business days for TechSoup Kenya to process your certificate. After that, you'll receive an email from TechSoup Kenya with instructions for obtaining your requested offers. "