As more nonprofits move elements of their IT infrastructure to the cloud, it's become increasingly important to understand the range of products to choose from. A common point of confusion concerns the difference between Office 365 and Microsoft 365. Let's take a closer look at what these cloud-based solutions have to offer so that you can make a more informed decision about which is right for your organization.
Office 365 for Nonprofits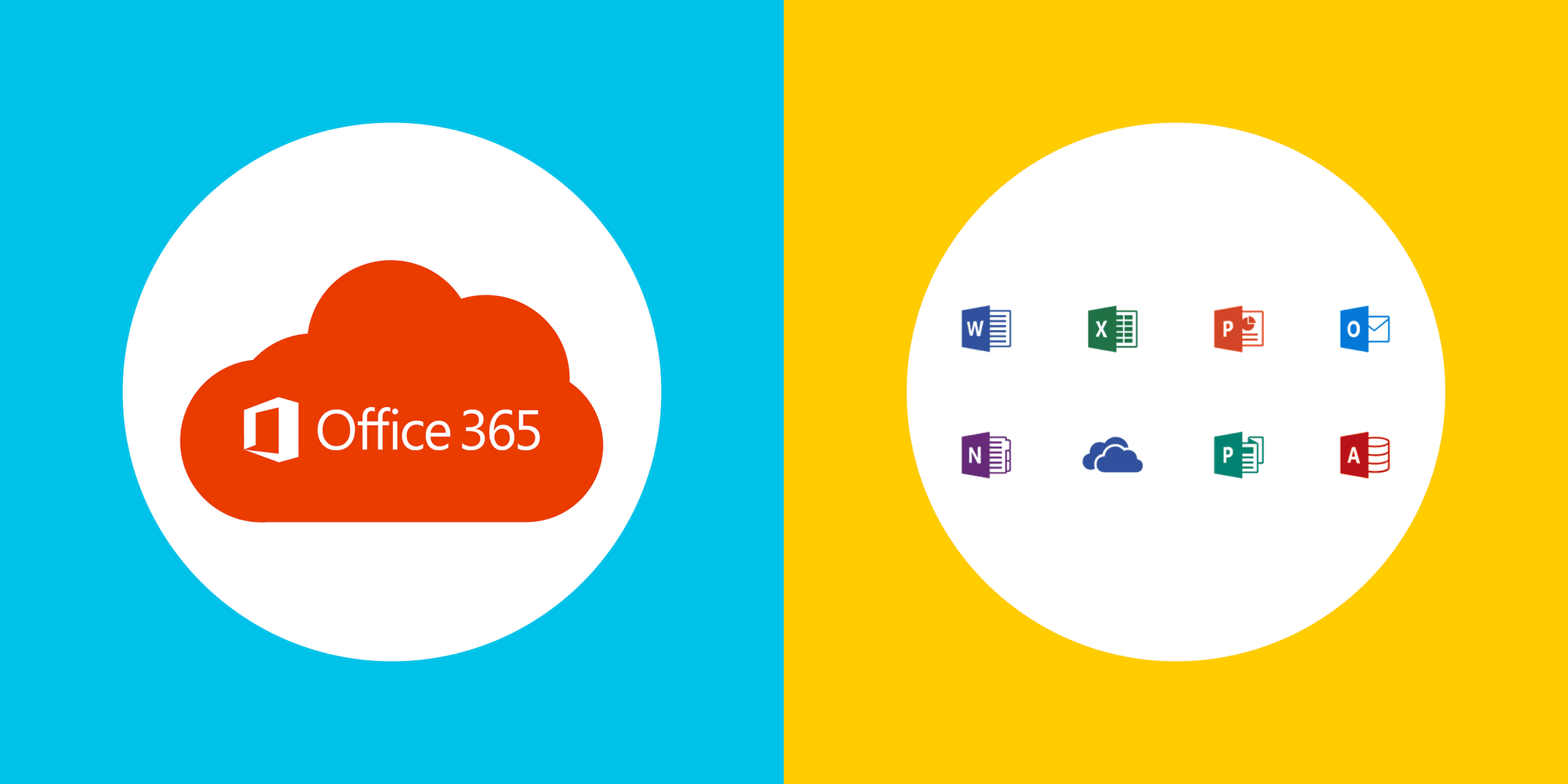 Office 365 is a bundle of cloud-based software designed for business productivity, offered via a subscription model. Features vary between different subscription options, which are clearly outlined in this article. Keep in mind, organizations can choose any combination of licenses. It is not required that all your licenses be in one subscription category.
Some Office 365 subscriptions — such as Business Premium, E3, and E5 — provide full desktop versions of familiar Office applications like Word, Excel, and PowerPoint. Others (Business Essentials, E1) only include access to web-based versions of Office software. Additionally, a cloud-hosted Exchange server for email is included across all subscriptions. All subscriptions also include Skype for Business, the file-sharing tool SharePoint, and Yammer, an employee social network application.
Donated and discounted business-level subscriptions are available for eligible charities through TechSoup, and costs vary between them. But the good news is that subscription packages can be mixed and matched across your organization according to your specific needs. For example, if one employee needs Office 365 E3, but three others only need Office E1 or Business Essentials, your organization can easily request a hybrid package.
Enterprise licensing brings more features and a higher level of security to Office 365 users. Maybe your organization requires greater data protection or more than 300 licenses (or both). If so, then you'll need to look into an enterprise subscription, such as Office 365 Enterprise E3 or E5.
 Microsoft 365 for Nonprofits
Organizations in need of a comprehensive software solution should look into Microsoft 365. Here, you get Office 365, but also the Windows 10 operating system, Enterprise Mobility + Security, and more — all with a single subscription. Both business and enterprise-level options are available through TechSoup Kenya. Microsoft 365 is good for organizations looking for a single-subscription solution for business productivity needs (Office 365) as well as the provisioning of workspaces through cloud-based licenses for Windows 10. Furthermore, the Enterprise Mobility + Security features are potential must-haves for organizations managing sensitive data or managing multiple employees across different PCs and mobile devices.
 Why Should Nonprofits Use Cloud Subscriptions?
The subscription model is particularly useful when it comes to accommodating incoming and outgoing employees. Let's say you have a staff of 10 when you acquire your Microsoft 365 subscription, but 1 or 2 people leave your organization. It's easy to deprovision these licenses, and effectively turn them back on as your staff grows. In this way, cloud subscriptions allow you to only pay for what you need, when you need it.
Additionally, both Office 365 and Microsoft 365 licenses can be managed and monitored across multiple employees from a single admin console. Also, Microsoft 365 is compatible with most existing Office 365 add-ons such as Advanced Threat Protection and Advanced Security Management.
The central question an organization must address when considering these two options is whether or not it needs Windows 10 and the Enterprise Mobility + Security features of Microsoft 365. Add-ons for Office 365 within Microsoft 365 are also available that allow you to customize your subscription.
If you already have a fleet of computers with existing versions of Windows (and they continue to fit your needs), then Microsoft 365 might not be the best fit. You could then just look into a package of Office 365 subscriptions with a set of security add-ons. For example, if you have an E1 or E3 subscription to Office 365, you can add on Exchange Online Advanced Threat Protection.
There are many other scenarios like this, and it's important to consider your options with both your mission and your budget in mind. That's why TechSoup Kenya is available to help guide you through the process. Reach out to us, and we can start taking a closer look at what sort of cloud solution makes the most sense for your organization.